TIGER advances the clinical development of exciting mRNA therapeutics combined with cutting edge nanomedicine technologies to develop off-the-shelf vaccines for cancer.
The TIGER project is supporting the clinical development of eTheRNA's mRNA-based immunotherapy for the treatment of cancer. The experimental drug investigated in the TIGER project is named EI-201, this product will be administered intravenously and has demonstrated proof-of-concept using the TriMix adjuvant technology.
This intravenous (IV) drug technology platform consists of three main components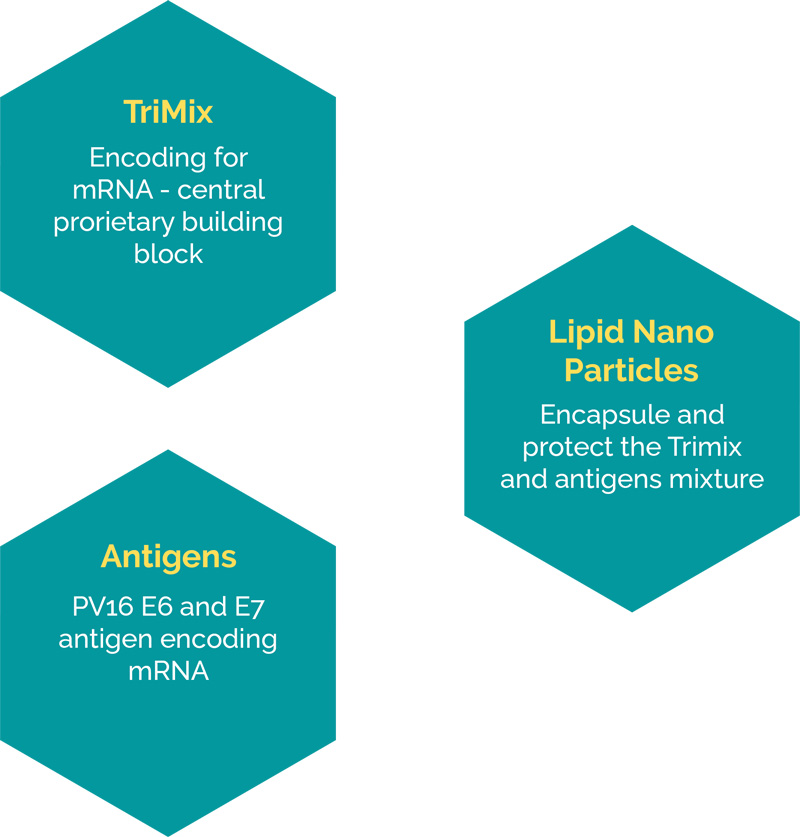 EI-201 combines these technologies within two nanomedicine drug products (DP) to target HPV16 cancers:
N

DP1 an LNP containing TriMix and HPV16 E6 mRNA

N

DP2 an LNP containing TriMix and HPV16 E7 mRNA.
The TIGER's platform technology is applicable for many indications by simply exchanging the antigen-encoding payload for alternative TAA or TSAs. In this project HPV16 cancers are selected to establish the clinical Proof of Concept. Although subsets of HPV16 cancers are rare, 600.000 HPV-related cancers are diagnosed yearly, an estimated 73% are related to the HPV16/18 subtypes.